The day on which the moorkop changed to chocolate ball
For four years, I have worked at HEMA's webcare department. But on February 6th, 2020, the Dutch pastry formerly known as "moorkop" was rebranded as "chocoladebol" (chocolate ball) due to its insensitive historical connotations. However, the announcement triggered a flood of thousands of dissatisfied messages on social media.

Online customer care is a relatively new phenomenon, with HEMA adopting it in 2014. Prior to that, all complaints were handled in stores. Over time, customer interaction through social media channels has increased, allowing anonymous online complaints to be voiced more easily. Things that people would not say in person to a store employee, such as unfriendly or racist remarks, can now be quickly transmitted anonymously through the internet.

Having been around for 94 years, HEMA has become an integral part of Dutch culture, symbolizing the values of Dutch society. Any changes made by HEMA are often seen as an attempt to alter the entire Dutch culture. While HEMA's core value is inclusivity, many people view it as a cultural entity that belongs to everyone.

The online societal discussions following HEMA's changes have always intrigued me. On February 6th, while at work, I witnessed thousands of messages inundating our social media accounts. My research explored how to capture a day in the life of a webcare employee at HEMA during a societal discussion, such as the one surrounding the moorkop.

This book, reveals the events of that day. The book is devoid of narrative and relies on the data to convey the story, leaving room for the reader's interpretation. The title of the work signifies the date and time of the first tweet that sparked the conversation.

Through the book, the reader gets a glimpse of the events of February 6th, 2020, when the moorkop transformed into the chocolate ball. The book is divided into sections, guiding the reader through each hour of that day, displaying the messages received, the first social media message, and the frequency of keywords used. The messages used in the book are public social media messages that HEMA received on February 6th.
HEMA is a Dutch retail company, founded in 1926. HEMA is known for its affordable and functional products, and has become a cultural icon in the Netherlands. HEMA has over 750 stores.
What did the moorkop refer to?
The term "moorkop" translates to "Moor's head" in English, which is a racial slur referring to a black person's head. In recent years, there has been a growing awareness of racial insensitivity in language and symbols, and HEMA's decision to change the name was seen as a step towards promoting inclusivity and diversity.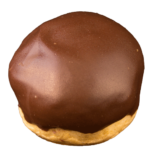 Pages: 374
Width: 15,2 cm (6 inches)
Height: 22,9 cm (9 inches)
Language: Dutch
Paperback
with 2 types of paper